The Ukrainian far right
I - The origin of the Ukrainian far right
The Ukrainian far right roots in the independence movement led by Stepan Bandera, an ultranationalist. Long before the war, it was already in close collaboration with the Nazi party of Adolf Hitler. In 1941, Bandera and his men allow the German army to invade Ukraine triumphantly, as il it was a liberation. The Ukrainian believes he can then proclaim the independence of his country, and Article Three of the Constitution he tries to enact says that the new state will be allied with the Nazi Germany, and proclaims his loyalty to Hitler. This Bandera is now the political reference of extreme right Ukrainian groups, who organize such events like in Nuremberg with nocturnal torchlight parades in his honor.
Stepan Bandera, in the uniform of Reichsführer.
Portrait of Hitler placarded in Kiev, at party 'Freedom' headquarters by supporters of Bandera, with the words: "Hitler liberator." We distinguish, on the side in red, a Wolfsangel. The white banner displays the name of Bandera. We understand better, with this, what they call 'freedom'.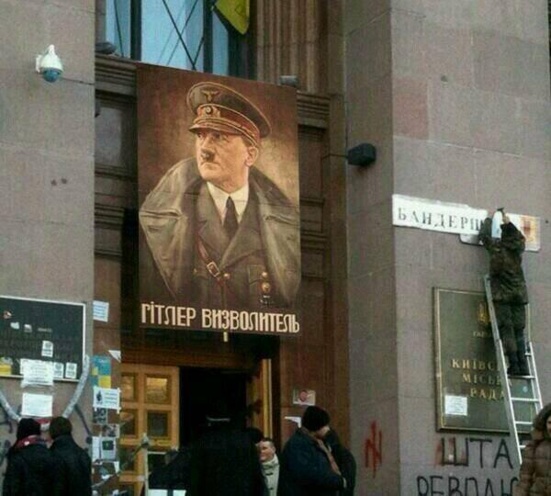 Neo-Nazi manifestation organised by the party "Svoboda" in honor of Bandera; on the banner: "Glory to Ukraine, glory to the heroes." This is a local version of "Heil Hitler - Sieg Heil" (Слава Гитлеру - слава Победе), slogan appeared at the OUN Congress in 1941. This slogan is used routinely today in the activities of the party and the army.
Nobody, however, ignores that, during the few months Bandera collaborated openly with the Nazis, he and his men were engaged in atrocities against the Jewish communities of the country. Unfortunately for him, the separatist leader was arrested and deported to a concentration camp. His troops then form the Ukrainian Insurgent Army (UPA) which will take refuge in the forests and fight both the German and the Soviet armies.
However, although they fought against the German army, their ideology, the neo-Nazis today have inherited without change, was Nazi-like, it was developed by Himmler, and is known as of Werwolf. This is a doctrine for the use of the Hitler Youth who fought in Europe the advancing Soviet troops first, and then the US. Their symbol was the Wolfsangel, that is to say the wolf hook, the same as that of the SS division das Reich. This is a slight variation of this symbol that adorns the Azov battalion badges now waging war in the Donbass; it was also the symbol of the Social Nationalist Party, before he takes the most discreet name Svoboda, that is to say freedom. In the background of the shield of the battalion, it also stands in white a reproduction of the "black sun", another Nazi symbol, personal emblem of Himmler.
Shield of the division das Reich : Shield of Azov Battalion: Black Sun of Himmler:
In the ideology of Werwolf, this symbol has a complex meaning: the lower part symbolizes defense, we defend the camp; the top, with three points, means the attack; but in fact, the symbol is reversible, it means that attack and defense are confused, we do not use other defense system that continuing attack. In terms of propaganda, it means that Werwolf ensure to do nothing but defend themselves or their people, race, territory, while their goal is only attack and destruction of the other. This is exactly the strategy they follow today in Ukraine, claiming to defend themselves against the Russians, when in reality they are in outright aggression against Russian speakers. It's the same discourse as the Norwegian Anders Breivik, who claimed to "defend its culture." Until 1991, the neo-Nazi movements were strictly banned in Ukraine, and they vegetated subterranean. But from the independence, they have reappeared in public.
II - Svoboda, former Social Nationalist Party of Ukraine
The party now called "Freedom" (Svoboda) is a Ukrainian nationalist party and neo-Nazi, founded in 1991 under the name of Social Nationalist Party of Ukraine (Социал-национальная партия Украины - СНПУ). The name change was made in 2004 with the arrival of Oleh Tyahnybok at the head of the party. The latter, in a desire to demonization, also changed the party symbol, abandoning the Wolfsangel. Despite this, party members continue to wear this symbol at events and continue to rage with anti-Russian, polonophobes, racist and anti-Semitic remarks. Since it plays an important role in Ukrainian politics and is part of the coalition responsible for the removal of President Viktor Yanukovych, the party removes anti-Semitic passages from its program and applies himself to avoid too extreme statements in order to improve its image with a wider audience.
However, the party continues to claim himself from the Ukrainian nationalist organization whose military wing, the Ukrainian Insurgent Army, actively collaborated with the Nazis during World War II and massacred the Jews of Galicia. The organization has often been blamed for the glorification of the collaborationist past of a part of the Ukrainian people with Nazi Germany and for organizing the 2013 commemoration of the 70th anniversary of the establishment of the SS Division Halychyna, who fought in the ranks of the Germans at the Battle of Brody in 1944.
May 12, 2011, the Board of Luhansk Oblast asked the President of Ukraine, Viktor Yanukovych, to ban the party as extremist organization, and especially because of organizing riots on May 9 in Lviv during the commemoration of the 66th anniversary of the victory over Nazi Germany, showing, with the help of recording support, the actions of its members.
While the party had obtained only 1.43% of the vote in the 2010 presidential elections, he gets more than 10% of the vote in the 2012 parliamentary elections, winning 37 seats. In autumn 2011, the party had organized a march against the influx of Hasidic Jews who perform each year in Ukraine a pilgrimage to the tomb of a famous rabbi; and later he opposed the organization of Gay Pride in Kiev. The Israeli ambassador to Ukraine, Reuven Din El, was particularly concerned about anti-Semitic remarks made by Oleh Tyahnybok.
December 14, 2013, during his visit to support protesters in Independence Square, John McCain, US Senator of the Republican Party, meet the leader of this party Oleh Tyahnybok along other opponents of the Ukrainian government as Vitali Klitschko and Arseniy Yatsenyuk.
The party participates in the Euromaidan, a movement that led to the dismissal of Viktor Yanukovych. During these events, the Haaretz newspaper reported that Right Sector and Svoboda reportedly distributed recent translations of Mein Kampf and The Elders of Zion Protocol on Maidan Square, and mentioned his concern about the significant presence of members of these two ultra-nationalists movements among the demonstrators.
The government Yatsenyuk (provisional government), appointed in February 26, 2014, is composed with several personalities of the party like Oleksandr Sych, Deputy Prime Minister, Andriy Mokhnyk, Minister of Ecology and Natural Resources, Ihor Shvayka, Minister of Agriculture and Food, Andriy Parubiy, director of the National Security Council, and Oleh Makhnitskyi, Attorney General. Ihor Tenyukh also took part as defense minister before being replaced by Mykhailo Koval.
Nevertheless, at the Ukrainian presidential election of 2014, Oleh Tyahnybok candidate invested by the party won only 1.16% of the votes, score even lower than in 2010. During the next legislative elections in 2014, the party does not reach the threshold of 5% (4.7%) but still gets the election of six members in the constituencies.
The most important members
Oleh Tyahnybok
(born November 7, 1968 in Lviv) is the leader of the Nationalist Party "Liberty", of Nazi inspiration. He is also considered as neo-Nazi by the Simon Wiesenthal Center. The same center ranks him among the ten worst anti-Semites in the world, for having called to purge Ukraine's of 400,000 Jews.
Oleh Tyahnybok, making the Nazi salute in a meeting; it is from him that McCain said he is "an advocate of European values."
Oleksandr Maksymovytch Sytch
is a member of Svoboda party. On 27 February 2014, he became Deputy Prime Minister in the Yatsenyuk government.
Ihor Ïosypovytch Tenioukh
is a Ukrainian admiral, member of the Svoboda party. He was chief of staff of the Ukrainian Navy from 2006 to 2010 before being dismissed by Viktor Yanukovych. He was appointed Minister of the Government of Defense Yatsenyuk, a position which he resigned March 25, 2014 after the Crimean crisis.
III - The right sector
Right Sector (in Ukrainian: Правий сектор, Pravyï sektor) is a Ukrainian nationalist political party, essentially anti-Russian. It was founded in November 2013, during the events relating to Euromaidan as paramilitary confederation, then structure a political party in March 2014. It is headed by Dmytro Iaroch. The ideas defended by Sector Law relating to the independence of the Ukrainian nation vis-à-vis Russia, the fight against people linked to the former regime of President Viktor Yanukovych, but not an economic line. This party was born of the combination of extreme right movements Ukrainian: Tryzub, Ukrainian National Assembly - Ukrainian National Self Defence, Patriots Ukrainian Social-National Assembly and the White Hammer.
In the Ukrainian elections of 2014, Law Sector does not reach the 5% threshold for the list vote but still won two parliamentary seats in the Rada in individual constituencies.
The billionaire Ihor Kolomoyskyi is close to that movement.
Dmytro Iaroch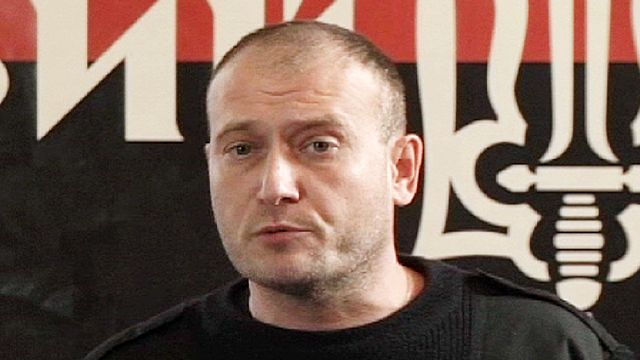 or Dmytro Yarosh is the leader of the movement Right Sector (Pravy Sektor). He was elected on October 26, 2014. He is the subject of an international arrest warrant by Interpol since July 25, 2014.
He joined in 1994 Tryzub extremist movement inspired by the nationalist ideology of Stepan Bandera. He directs it until 2005.
In November 2013, he founded Right Sector (Pravy Sektor) which is a paramilitary group uniting several far-right groups who faces the front line, hooded, molotov cocktail in hand, of the security forces during the Euromaidan. Since March 2014, Right Sector (Pravy Sektor) is a political party.
In March 2014, Russia launched a prosecution against him for having publicly called to terrorism and extremism: in fact, he calls in his speeches anti-Russian forces to engage in extremist acts and spread terror on the Russian territory.
He is a candidate for the presidential election in May 2014. During the election, which saw the victory of Petro Poroshenko, he ranks eleventh with 0.70% of votes. According to statements by Iaroch, the Nationalist and neo-Nazi Ukrainian far-right Party Svoboda is in his opinion "too liberal."
Iaroch's geopolitical program outlined in March 2014 for the presidential held in five main points:
1 - Blow up pipelines to force the Russians to defend them.
2 - Make an ultra media coverage of events to get Russia as the main enemy.
3 - Force them to cut gas pipelines to Europe, forcing Europe to terminate its contracts with Russia.
4 - Substitute a contract with the United States to find an outlet for its shale gas, sell at the higher price since Europe is the applicant, find there another argument about the need for transatlantic treaty.
5 - Isolate Russia and compel Sstates to choose sides: either US / EU or Russia / China, both in economic, energy and military question.
The Azov battalion
The Azov Battalion (Ukrainian: Батальйон "Азов") also known as the "men in black" is a special paramilitary unit formed from Ukrainian volunteers from the extreme Ukrainian right, under the command of the Interior Ministry of Ukraine. This battalion was formed in Mariupol to keep administrative buildings. It consists of about 500 volunteers came especially from Western Ukraine, but also for some of the center of Ukraine.
Andrei Byletsky, leader of a neo-Nazi group called the Ukrainian Social-National Assembly, and Azov battalion commander said that "the historical mission of our nation at this critical moment is to get the white races of the world in a final survival crusade (...) A crusade against the Zionists."
Volunteers came to fight along with the pro-European side. Among them: Mikael Skillt, a former soldier in the Swedish army and member of the Swedish neo-Nazi party Svenskarnas Party ("party of Swedes'), which joined the Azov Battalion as the commander of a small unit of recognition and marksmen. In an interview with the Swedish newspaper Svenska Dagbladet, Mikael Skillt said that "its purpose is a white Ukraine" and "I am a nationalist and I want to be with white European in Europe", knowing that for him, the Jewish minorities, Russian and Armenian are neither white nor European, and he wants to this purpose ban interracial sex.
On 6 August 2014, Amnesty International published a report denouncing Oleg Lyashko who, accompanied by paramilitary groups, including the Azov battalion, removes people, humiliated and mistreated them, and this with impunity.
A UN report refers to acts of violations of human rights, including arbitrary detentions and torture, committed by the Ukrainian armed forces and paramilitary forces attached to the Interior Ministry as the Battalion Azov.
Another report by Amnesty International denounced the pro-European paramilitaries, including the Azov battalion, which commits crimes of war, executing hostages and pro-Russian prisoners by beheading them.
Here, an Amnesty International report on abuses by the battalion Aidar against civilians.
October 14, 2014, the battalions Azov and Aidar, accompanied by 4,000 people who were celebrating the 72th anniversary of the founding of the UPA, tried to take the Ukrainian Parliament.
Oleh Lyashko
Ukrainian: Олег Валерійович Ляшко, is a Ukrainian parliamentary candidate for early presidential elections in 2014 in Ukraine, where he received 8.32% of votes cast.
He heads the Radical Party.
On 6 August, Amnesty International published a report denouncing the fact that Oleg Lyashko films and broadcasts on its website (http://www.liashko.ua/) videos that are chilling, in which we see him, accompanied by paramilitary groups such as the Azov battalion, entering public or private places for kidnapping individuals, humiliate and coerce them by force to execute his orders: in one of them, it forces the mayor of Slavyansk to write a letter of "voluntary" resignation. Oleg Lyashko is supposed to be a legislator. However, he decided to establish his own law. The formula "Glory to Ukraine, death to the occupants" serves as a rallying cry. He has no right to make arrests. Yet he engages in kidnappings and does not hesitate to abuse his victims, both verbally and physically, before his own camera.
Vadim Troyan
Notorious neo-Nazi, former leader of Azov battalion, he was appointed head of the Kiev police by the Interior Minister Arsen Avakov.
IV - What should we expect?
At present, all these parties and groups try to cover, as much as possible, their Nazi ideology. They understand that they are making shame to the government that supports them, and who needs to cultivate his image of victim in Europe. In particular, they pretend to have abandoned their racist and antisemitic theories. They went - summit of hypocrisy - to organize a show of support for Israel in its fight against Hamas, as if they were in solidarity with all countries facing terrorism. Thus, they have gained the financial support of the Ukrainian, Israeli and Cypriot, oligarch and billionaire, Igor Kolomoïski; the latter, in his russophobe madness should imagine that because he gives them money, he buys them, and that they would leave suddenly their visceral anti-Semitism. It is a capital mistake, and the unfortunate does not realize that he is arming those who will kill him. The semblances of respectability today that want these groups is nothing more than a passing hypocrisy, and when they become strong enough to do what they want, they will show their true colors again.
Today, all indicate that the probability that they took power in a few months is extremely strong.
First, because it is obviously their goal, and they have already tried to take it in October. The only penalty they suffered was to receive the direction of the Kiev police.
Second, because they take every means to achieve this goal: their battalions grow steadily; the government provides them with modern weapons, mortars, tanks ... They occupy key positions in government, the army, the police.
Third, because the neo-Nazi ideology is now commonplace in Ukraine; we recently heard the Prime Minister Arseniy Yatsenyuk say live on German television that the defeat of the Nazis before the Soviet Union was a historic disaster that was not to reproduce, without any political personality takes the trouble to respond accordingly.
Fourth, because they enjoy a total impunity: they can commit the crimes they want, e. g. to bomb civilians, the State is always on their side.
Fifth, because this government is going out of business, and the country's economic situation looks more and more chaotic, remembering the situation of Germany in the early 30s.
Sixth, because there is no strength in the country that could seriously oppose them.
Seventh, because whatever will be the outcome of the war in the Donbass, it will be useful for them, no matter what happens: if they win, they cover themselves with glory, and the road will be open to them; if they lose, it will be the fault of the government, and a good reason to overthrow it.
Currently, the conflict sets them in the east of the country, far enough from Kiev; but they will not stay there forever, and will come back some time. Back in the capital, we do not see what they could handle, if not to make a coup.
What hope is left today they do not take power? Actually, it's very small. One could imagine that the Russian army destroys them, but it is very unlikely: it would require the massacre of Russian-speaking people among whom they are scattered; secondly, they are coward enough, very rarely present directly on the front line, where instead are found foreign mercenaries, reservists, or young conscripts. One could also imagine that the government Poroshenko manages to control the situation and restore law and order and the economic situation, but this is totally unrealistic. Can we expect a peace agreement at the end of the current negotiations, in the format "Normandie", that is to say, between the French, Germans, Russians and Ukrainians, in the absence of the English and Americans? No more: neo-Nazi battalions are doing everything to torpedo any attempt to restore peace, to which they have absolutely no interest. On the ground, they do what they want, and do not obey the government when it suits them. Their goal is obviously that the conflict will continue and hardens to exacerbate the population, bring down the government and seize all power. They know that "war is another way to make domestic policy," and they are not shy.
The attitude of Western governments towards them falls in an unforgivable willful blindness; they play Doctor Faustus; they imagine that these groups are just harmless little devils that they can use as they please, to harm Russia. But it is clear that the situation escapes them completely: they are locked at this time in their contradictions, and are absolutely unable to find a way out of the situation they have created. It is obvious today in the eyes of everyone, that accusing Russia exclusively, not to see the real culprits, only serves to let the situation rot on the ground, and feed the vile beast. It takes the opportunity to gain strength and in some time it will show what it is capable of.
America's Ukraine Policy and Maidan Ukraine's War Crimes
by Gordon M. Hahn
As in almost any war, especially civil war, there have been terrible war crimes committed by both sides in the Ukrainian civil war (usually called 'Putin's war'). Now Americans might hear from the U.S. mainstream media about the atrocities committed on one side in the conflict – those of the pro-Russian Donbass resistance fighters. All but a handful will ever hear of the democratic Maidan regime's war crimes. The average American might accidentally stumble on a European or Russian mainstream media source and accidentally push Google translation to English, but not likely. To the point: Although there is little evidence that regular Ukrainian army forces have committed a large number of such crimes, there is a mountain of evidence that National Guard battalions and Kiev's more independent neofascist-infused volunteer battalions have.
Recently, one Western newspaper, the German newspaper Der Speigel, actually bothered itself with exposing some of the Maidan neo-fascists' war crimes in an all too brief expose.' True, this is not the first such report. The OSCE, Amnesty International, and Human Rights Watch have all reported on war crimes by both sides, including Kiev's use of cluster bombs against civilian targets. However, the new report is rather instructive of the kind of atrocities ignored by the West and the Obama administration in particular.
In particular, Der Speigel covered the crimes committed by two Ukrainian neo-fascist entities. First, it discusses the charges against the volunteer battalion 'Tornado', discussed briefly on this site a month ago.[1] Second, it discusses the neo-fascist Right Sector party and its battalions under its Ukrainian Volunteer Corps (UVC), covered on this exhaustively.[2]
Excerpts and summaries from Der Spiegel's article:
Tornado's commander Ruslan Onischenko's "fast-paced career" saw him rise "from the criminal to hero and back again." Onischenko commanded 150 men in the Ukrainian volunteer unit which fought at the front in eastern Ukraine against the pro-Russian separatists.
"The unit behaved apparently in accordance with its name: unpredictable and destructive. Onischenko and several more men are now standing trial. The prosecution's documents speak of illegal deprivation of liberty, gang rape and torture. Anatoly Matois, chief military prosecutor of the country, read the accusations on (Ukrainian) television: The fighters had prisoners' tortured by means of an object similar to a power generator. The prisoners were held in the basement, stripped naked, placed on a concrete wall and doused with water. Then they were touched with live wires to various body parts, such as at the temple, the genitals and the testicles."
According to a statement of a former prisoner, prisoners "were forced under threat of death to rape another prisoner."
"Two of around a dozen arrested Tornado fighters are said to have planned to shoot the Kiev below regional police chief. One of them is a sniper. Only a few months ago commander Onischenko was a publicly celebrated hero. Filaret, head of the Ukrainian Orthodox Church, had awarded him with a medal."
"Other units have committed war crimes. Thus, in May a unit of the nationalist guard Right Sector caught a separatist fighter in eastern Ukraine after an engagement. They threw the man around before later chopping off both his forefingers." Internet photos posted by Rights Sector fighters "show the prisoners shortly after the battle. In some of the shots stumps of cutoff finger can be seen. The wounds are fresh."
"A Right Sector fighter boasted about this fact on his Facebook page. The battle, he wrote, was 'good training for the offensive on Donetsk.' Ilya Bogdanov, a Right Sector commander confirmed the mutilation. The fact discredited his troops. 'The bastard of my unit who cut off the prisoners' index finger is working for Putin,' he wrote on Facebook."
"Tatjana Masur of Amnesty International stressed in Ukraine, there is no evidence of systematic abuse by the Ukrainian side: 'But there are such cases and they are spreading.'"
Ukraine's Military Prosecutor Anatoly Matios charged Interior Minister Arseniy Avakow with co-responsibility. One "could have saved many lives if the Interior Ministry made the right personnel decisions'. The "Tornado" unit was – placed under the police – at least on paper. But warnings were ignored. The domestic security service SBU had arrested "Tornado" fighters in November. They were with machine guns and hand grenades on the road, but not on the front, but in the capital Kiev."
"Tornado commander Ruslan Onischenko had several prior convictions several times, but for his political supporters that was no reason for caution. On the contrary, the nationalist Radical Party's boss Oleh Lyashko wants to send even more criminal offenders to the front; offenders would simply 'fight better'."[3]
Implication 1
By arresting and trying Tornado's fighters, the Maidan regime is now trying to cover up its tracks, betraying at least these particular neo-fascist fighters (and perhaps some more innocent volunteers who got themselves caught up in the neo-fascists' bacchanalia). That bacchanalia was whipped up by 'strategic communications' and propaganda from officials, media and 'think' tanks in Kiev, Washington, and Brussels, replete with claims of Putin's "fascism" and an imminent Russian march on Europe through Ukraine to "restore the Soviet empire." Moreover, it is very likely that in Kiev, if not elsewhere, the deployment of ultra-nationalist- and neofascist- infused volunteer battalions was immediately conceptualized as a temporary meaure that would provide the Maidan regime with a layer of insulation and thus deniability regarding any direct responsibility for the battalions' atrocities and war crimes, while allowing it to unleash these elements on the 'koloradoes' and 'vatniki' in the Mongolid east.
Nevertheless, the arrest and criminal charges leveled by the Maidan regime against forces like the Tornado battalion raises perhaos even more disturbing questions: Why have no charges been leveled against any leaders or fighters from Right Sector? After all, Right Sector has committed much worse atrocities than those alleged against Tornado: the 20 February 2014 sniper attacks (see below), the April 2014 slaughter of some 20 policemen in Mariupol, the 2 May Odessa terrorist pogrom, the recent attack on police and contrabandists in Mukachevo, and likely the recent bombings of two police headquarters in Lviv (Lvov) wounding two policeman.[4] In the case of the Mukachevo shootout, an official Right Sector spokesman recently stated it is now hiding from law enforcement those involved in the shooting.[5] Thus, the group is openly defying the law by obstructing an investigation and aiding and abetting criminal activity, but Yarosh and its leaders roam free, holding congresses, meetings, and press conferences. Only a few of Right Sector members have ever been detained for the hundreds of cases of murders, beatings thefts, and harassment. One in connection with the Mukachevo affair and another in connection with an attack on a gay parade in Kiev in June.
Could it be that one or more high-place Maidan regime officials are protecting Right Sector – some in the SBU or MVD, Prime Minister Yatsenyuk, Defense and Security Council Chairman and former Maida regime acting president Oleksandr Turchynov? Or is the regime reluctant to move against Right Sector because oligarch and former Dnepropetrovsk governor Ihor Kolomoiskii remains its most powerful sponsor? Kolomoiskii and Ukrainian President Poroshenko were locked in a standoff several months ago which ended in Kolomoiskii's resignation for the governorship and his sudden travel to the U.S.[6]
Shortly after the Poroshenko-Kolomoiskii dustup, Poroshenko fired SBU chief Valentyn Nalyvaichenko, who had been one of Yarosh's patrons. Nalyvaichenko visited a Right Sector training camp, and Yarosh was a non-staff advisor of Nalyvaichenko's when he was a deputy in Ukraine's parliament, the Supreme Rada.[7]
Could Kolomoiskii be (and Nalyvaichenko before him have been) under the protection of some in the Obama Administration, such as Victoria Nuland, requiring Poroshenko to leave Kolomoiskii be? Upon his return to Ukraine, Right Sector undertook the Mukachevo attack. Note that the U.S. congress recently forbade any U.S. military training or weapons being supplied to the neo-fascist Azov battalion, but has not subjected Right Sector to such a ban.
Implication 2
So where lies and how much of the overall responsibility lies on the Barack Obama administration, the State Department, Deputy Secretary of State Victoria Nuland, US Ambassador to Ukraine Geoffrey Payet, and their numerous mouthpieces in the American think tank and journalistic community? Simple. The Maidan regime deliberately recruited criminal and neo-fascists in to the volunteer batalions and helped fund and arm neo-fascist groups like Right Sector that brought the regime to power. All this was openly discussed in the media and described by Maidan regime leaders such as President Petro Poroshenko, Prime Minister Arsenii Yatsenyuk, SBU chief Vitaliy Nalyvaichenko, MVD chief Arsen Avakov, neo-fascist Radical Party leader Oleh Lyashko, and Right Sector leader Dmitro Yarosh. While knowing full well that the Maidan regime was organizing and then had unleashed these and many other criminal and neo-fascist volunteer battalions on the Donbass people, they either denied or remained silent on the issue, as these units raped, killed, and mamed. Moreover, the same neo-fascists actually transformed the Maidan demonstrations from peaceful protest into a violent revolution and who seized power by force, deploying snipers to shoot at police and protestors.[8]
US officials have spent all of their energy covering up for the neo-fascist element in the Maidan revolt. For example, US Congressman Dana Rohrbacher inquired whether there were any neo-fascists on the Maidan –Nuland refused to respond to the question, and arrogantly repeated that there were "mothers, grandmothers, and veterans…all colors of Ukraine, including ugly colors" on the Maidan and that the violence is "subject to investigation."[9] But, as I noted above and detailed elsewhere, the snipers were from the ranks of the neo-fascists, who have never been investigated for these crimes by any official entity in Washington, Brussels, or Kiev, despite one Estonian official's "sense" that elements tied to the Maidan regime were behind the sniper attacks.[10] Nuland tries to insinuate that Russia was behind the sniper attacks by referring to "outside agitators" about whom there is "good evidence" of their role, she claims, though neither Washington, Brussels, nor Kiev has ever presented such evidence.[11] Thus, using its dual-use (regime change by transition or revolution), 'democracy-promotion' political technology, the West politically and financially supported forces that both sought to overthrow Yanukovich and thus paved the way for the neofascist-led overthrow of freely and fairly elected Ukrainian President Viktor Yanukovich.
The new 'democratic' Maidan regime refused to negotiate with the Donbass rebels and immediately declared its 'anti-terrorist' operation (ATO) against them using heavy artillery, tanks, and bombing from the air against civilians. Neither Nobel Peace Prize recipient President Obama nor any other American official, nor any U.S. mainstream media criticized the Maidan regime for failing to negotiate or took any steps to pressure them to do so. Given the Maidan regime's desperate economic situation and total dependence on US political and military support, a few simple words on or around 14 April 2014 could have forced negotiations: 'no negotiations, no money.' Not a word was said; the Obama administration clearly preferred an intra-Slavic war to intra-Slavic peace. The blood and tears of six thousand deaths, tens thousand wounded, and a million refugees are therefore in good part on its hands. 'Putin's war' in Ukraine is as much, if not more, the West's war in Donbass.
_______________________
FOOTNOTES
[1] Gordon M. Hahn, "One Day in the Life of Ukrainian Democracy," Gordonhahn.com Russian and Eurasian Politics, 21 June 2015,http://gordonhahn.com/2015/06/21/one-day-in-the-life-of-ukrainian-democracy/.
[2] Just Google-translate at the link http://www.spiegel.de/politik/ausland/ukraine-prozess-gegen-pro-ukrainischer-kaempfer-a-1045801.html.
[3] www.spiegel.de/politik/ausland/ukraine-prozess-gegen-pro-ukrainischer-kaempfer-a-1045801.html.
[4] See, Gordon M. Hahn, "Saving Maidan Ukraine From Itself: Mukachev's Implications," Gordonhahn.com Russian and Eurasian Politics, 13 July 2015,http://gordonhahn.com/2015/07/13/saving-maidan-ukraine-from-itself-mukachevos-implications/; Gordon M. Hahn, "Ukraine's Neo-Fascist Right Sector: Preparing a Revolt?," Gordonhahn.com Russian and Eurasian Politics, 14 July 2015,http://gordonhahn.com/2015/07/14/ukraines-neo-fascist-right-sector-preparing-a-revolt/; Gordon M. Hahn, "Right Sector and the Impotence of Ukraine's Weimar Maidan Regime," Gordonhahn.com Russian and Eurasian Politics, 22 July 2015,http://gordonhahn.com/2015/07/22/right-sector-and-the-impotence-of-ukraines-weimar-maidan-regime/.
[5] http://vesti-ukr.com/kiev/109541-pravyj-sektor-ne-raskryvaet-mestonahozhdenie-bojcov-iz-mukachevo.
[6] Gordon M. Hahn, "Poroshenko – 1, Kolomoiskii – 0," Gordonhahn.com Russian and Eurasian Politics, 27 March 2015, http://gordonhahn.com/2015/03/27/poroshenko-1-kolomoiskii-0/.
[7] See the comments of Ukrainian political analyst Mikhail Pogrbenskii about 20 minutes in to his interview on "Kiev ne gotov k miru," 'Arena Sobytii,' Online TV, 31 July 2015, http://www.onlinetv.ru/video/2449/?autostart=1.
[8] Gordon M. Hahn, "Violence, Coercion and Escalation in the Ukrainian Crisis: Escalation Point 6: The 'Snipers of February," Gordonhahn.com Russian and Eurasian Politics, 8 May 2015, http://gordonhahn.com/2015/05/08/violence-coercion-and-escalation-in-ukraines-maidan-revolution-escalation-point-6-the-snipers-of-february/and Ivan Katchanovski, "The 'Snipers' Massacre' on the Maidan in Ukraine (Revised and Updated Version)," Academia.edu, 20 February 2015,www.academia.edu/8776021/The_Snipers_Massacre_on_the_Maidan_in_Ukraine orJohnson's Russia List, #33, 21 February 2015, Institute for European, Russian and Eurasian Studies at George Washington University's Elliott School of International Affairs, http://archive.constantcontact.com/fs053/1102820649387/archive/1102911694293.html.
[9] http://www.youtube.com/watch?v=6TpZa4OMFVk.
[10] "Breaking: Estonian Foreign Minister Urmas Paet and Catherine Ashton discuss Ukraine over the phone," You Tube, 5 March 2014, www.youtube.com/watch?v=ZEgJ0oo3OA8.
[11] http://www.youtube.com/watch?v=6TpZa4OMFVk.
~~~~~~~~~~~~~~~~~~~~~~~
Gordon M. Hahn is an Analyst and Advisory Board Member of the Geostrategic Forecasting Corporation, Chicago, Illinois; Senior Researcher, Center for Terrorism and Intelligence Studies (CETIS), Akribis Group, San Jose, California Analyst/Consultant, Russia Other Points of View – Russia Media Watch; and Senior Researcher and Adjunct Professor, MonTREP, Monterey, California. Dr Hahn is author of three well-received books, Russia's Revolution From Above (Transaction, 2002), Russia's Islamic Threat (Yale University Press, 2007), which was named an outstanding title of 2007 by Choice magazine, and The 'Caucasus Emirate' Mujahedin: Global Jihadism in Russia's North Caucasus and Beyond (McFarland Publishers, 2014). He also has authored hundreds of articles in scholarly journals and other publications on Russian, Eurasian and international politics and wrote, edited and published the Islam, Islamism, and Politics in Eurasia Report at CSIS from 2010-2013. Dr. Hahn has been a Senior Associate at the Center for Strategic and International Studies (2011-2013) and a Visiting Scholar at both the Hoover Institution and the Kennan Institute.
See also :
The manipulation of the masses strategy